HISTORY
Nutrición Animal, S.A started work on November 14, 1978 in Hato de Volcan, Province of Chiriqui, founded by Engineer Mr. Fernando Eleta Almarán . Elaborating balanced food for aquaculture.
Serving the domestic producer, subsequently he transcended borders accessing international markets, contributing to national development with food export for the aquaculture industry AQUANASA. Setting our commitment to quality and performance of the food we produce; aware of the needs of our customers we guarantee nutritional quality through continuous improvement acquiring new technologies in our processes and quality of the ingredients used in balanced formulas.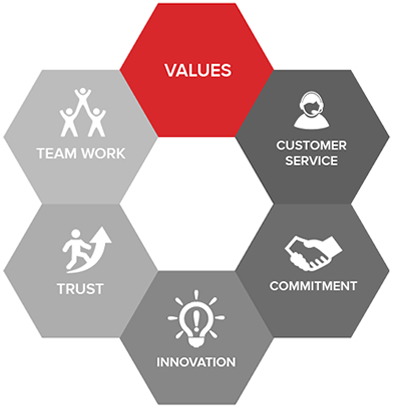 VISION
To be the most efficient food production plant for animals in the market, continuously improving our processes always looking for satisfaction of our customers, partners and collaborators.
MISSION
To produce food for animal consumption based on the highest standards of quality and excellence.
GOALS
Remain a socially and environmentally responsible company, to exalt the work of our human capital, heighten and implement our values.
QUALITY POLICY
We are a company dedicated to balanced food production, we work with high quality and safety standards, developing our staff and continually improving our processes for our client satisfaction accomplishing a competitive- comparative difference while complying with sanitary requirements.
We are a team that executes its daily actions with a high calling of customer service with a company vision based on the following principles:
01 PERSONAL INTEGRITY:
As an expression of honesty, discipline, order, respect and enthusiasm, targeting development and personal growth of all its members.
02 CREATIVITY AND INNOVATION:
As a daily challenge for continuous improvement.
We are constantly updated and certified under HACCP / HACCP (Hazard Analysis and Critical Control Point / Hazard Analysis and Critical Control Points), GMP (Good Management Practices) and POES (Standardized Operating Sanitary Practices).
03 PRODUCTIVITY:
In our work and in the use of material resources that translate into a profitable and sustainable business.
04 AWARENESS:
In constant search for error free work, loyal commitment to the institution and quality achievements.
05 RESPECT FOR ENVIRONMENTAL CONDITIONS AND FOOD SAFETY:
Committed to the general welfare of the society in which it interacts.